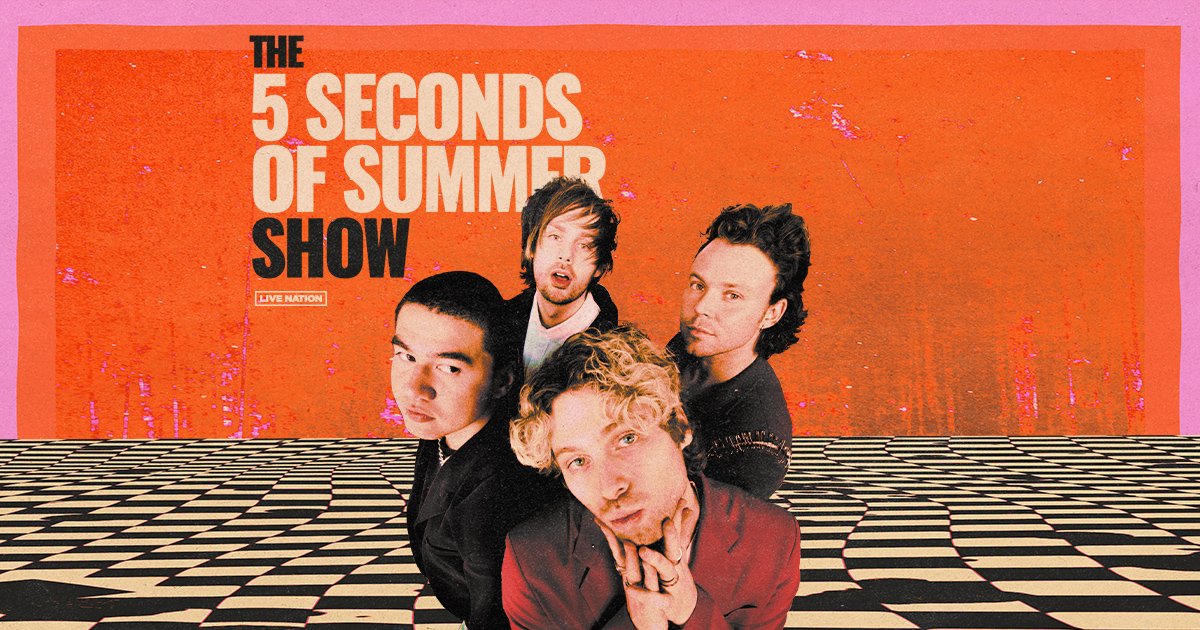 I Went To The 5 Seconds of Summer Show
I first saw 5 Seconds of Summer as a main act in 2015. They were embarking on their first solo tour in the US and I, as a barely-15-year-old, was beyond excited. Fast forward almost ten years and the band is currently on their fifth tour, The 5 Seconds of Summer Show. When tickets went on sale there was only one place I wanted to be, and that was in the pit. Luckily, I was able to get those tickets for night one of two sold out shows at Boston's MGM Fenway Music Hall.
Before going to the show, I wanted to go in almost spoiler free. I looked up the setlist (because I am not a saint and needed to make sure I knew all the songs) but otherwise went in oblivious. And boy, what a ride I was in for. Before I get into things I want to give a formal warning, spoilers for The 5 Seconds of Summer Show will be below. If you're going to one of the shows and want to be surprised about what's to come, I'd suggest turning back now. For everyone else, let's dive in.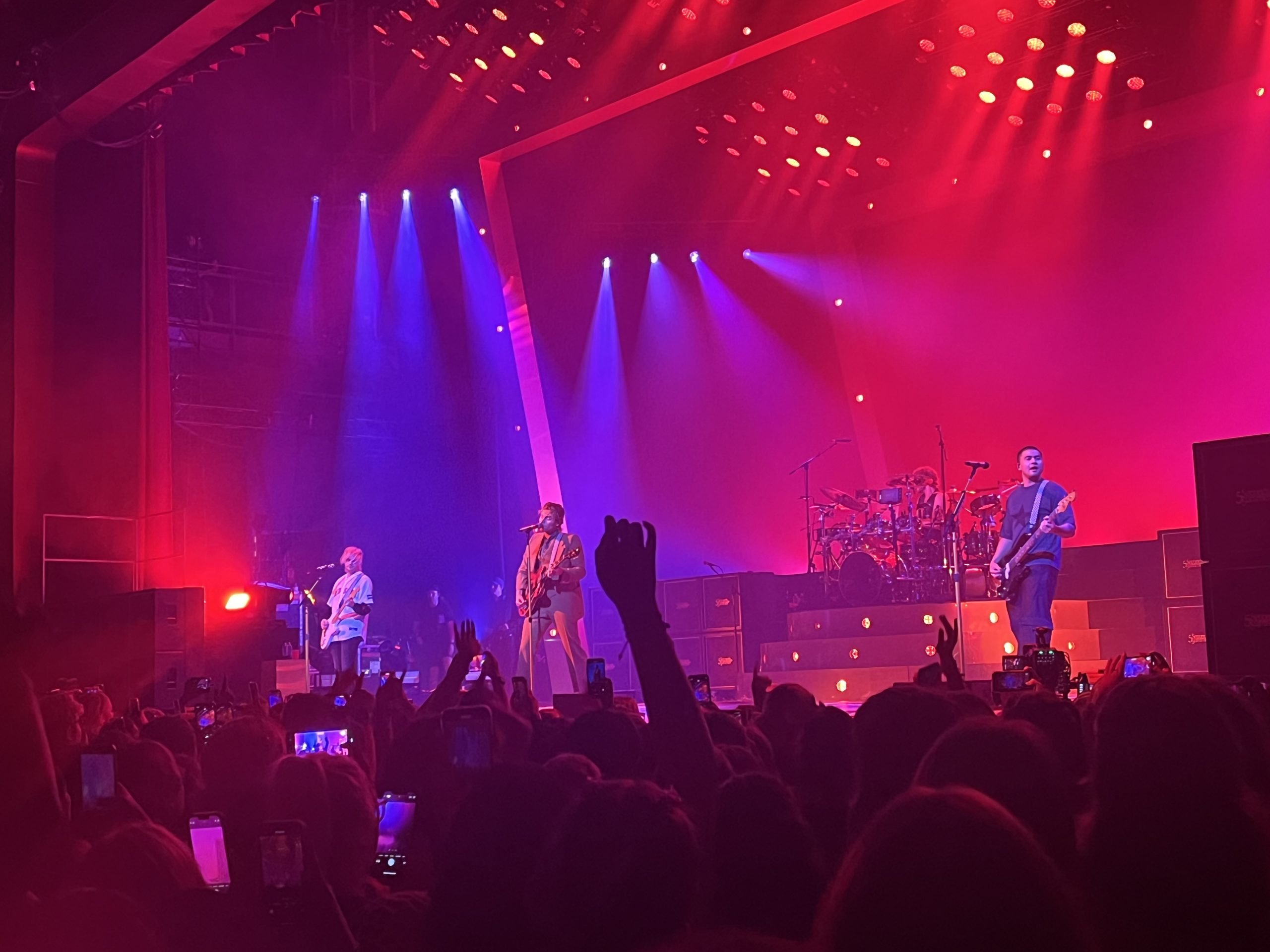 ~The Opener~
For many of the US shows, 5SOS are bringing along the all-female pop-rock trio Meet Me @ The Altar. I didn't know much about the group before the show, but they left a great impression. They brought the energy, putting on a fun and engaging set for the audience. You could tell that they were genuinely having a great time performing and putting on a show for us. They started with some original songs but midway through their set, they did a medley of covers. The recognition of these songs had the audience buzzing and built energy for the band to perform their last two songs.
A part of their set that I thought was interesting was the use of blacklight. The lead singer, Edith, has vibrant pink, green, and blue hair which becomes electrified when hit with blacklight. This small aspect brought a new level of excitement to the act. I think this opening set gives an idea of the exciting and engaging shows we can expect from them in the future. As their popularity grows and they eventually become headliners, I'm excited to see what they come up with. If you're interested in checking them out (and I think you should), you can listen to their music here.
~The Setlist~
When I first saw pictures of the potential setlist I was shocked. I thought it was fake, too good to be true. There was no way we were getting Disconnected and Jet Black Heart in the year 2023. Yet when the curtain dropped and the opening chords to Bad Omens filled MGM, I knew it was real. I wish I could say I was dignified in my excitement, but I reverted to the teen I was when first discovering the band. Luckily, Boston brought the energy, so I was not alone in my excited screaming.
There have been jokes floating around that The 5 Seconds of Summer Show is the Taylor Swift Eras Tour for 5SOS. Every album gets love on this tour with a medley of songs stretching their entire career on the setlist. Albeit some albums get more love than others (sorry to all the CALM girlies out there).
The band has never shied away from telling fans which of their songs they do and do not like. One of the songs I was most surprised to see on this setlist was Don't Stop. The band previously did a tier ranking of every 5SOS song at the time. On that list, Don't Stop was its own category. Clearly, the band had some heavy feelings about the track off their first album. As one of my favorite songs, I never expected to see it live again, so I was beyond excited to jam out with fellow fans.  
Everyone had the songs they were most excited to hear (for me, it was Ghost of You). Having seen the setlist prior, I knew what to expect. Well, almost. There was one song on the setlist that I wasn't sure if I would know. As videos have shown, even the band have had to double check that they remembered how to play these songs. After all, the audience gets to choose what they hear… sorta.
~The Dice~
After being a fan for a decade, there are certain things I come to expect from 5SOS. One is that they never take themselves too seriously. During my show, when the band came back onstage for the encore, Ashton threw his robe in Michael's face. Earlier in the show, Luke chugged an entire Sam Adams (with a bit of audience encouragement). This is all to say that they are not afraid to have a good time.
The second thing I have come to expect is outward gratitude and love towards their fans. This is a band that both respects and values the people who support their music. That being said, this love often is served with a side of sarcasm and memes. If there is one thing to know about 5SOS and their fan engagement, it's that they love to meme us. Nothing exemplifies this better than The Dice.
When the tour started in South America, videos leaked of Luke throwing a gigantic inflatable red dice into the crowd. On each side of this die are song titles, songs that the band hate but the fans love. The fans push around the dice until it makes its way back to the stage where the band will then perform whatever song is face up.
Songs on the dice include – Voodoo Doll, If You Don't Know, Heartbreak Girl, Heartache on the Big Screen, Wrapped Around Your Finger, and English Love Affair. Many of these songs are b-sides and extended version tracks that fans adore.
Sometimes the band members will try and flip the dice around but, for the most part, they let fate take control. When the dice was thrown out in Boston and it started rolling around I waited in anticipation. There was a moment where I thought we would get English Love Affair, but then the dice rolled, and we got Wrapped Around Your Finger. The crowd went wild, as this song is fronted vocally by Michael, and is one of their more rock-laden songs.
Michael fans lost their mind as the b-side track lit up the hall. This was the first time the song had been played on the tour, and based on the audience reaction, I think people were more than happy with what we rolled.
~The Show~
For the band's 10-year anniversary, 5SOS released a series of skits. One of these skits had the band creating a fake commercial for a product called '5 Sauce' (a play on how the bands nickname is pronounced). This ad went viral and helped create what would be a basis for the shows theming.
On the online tour shop you can get a t-shirt that says, 'I got Sauced at The 5 Seconds of Summer Show'. When I first saw this shirt online I laughed, thinking it was a reference to the video. Oh, how wrong I was.
Towards the end of the show Ashton has a bit where he competes with the audience. Without giving too much away, the audience lost the battle. The consequence? A giant 'sauce' confetti cannon. Gigantic ketchup and mustard bottles were wheeled out onto stage. Luke took one, Michael took the other, and Calum manned the button. On Cal's mark he pressed launch, and the crowd was covered in a layer of red and yellow confetti.
—–
Earlier I had mentioned that this show is being compared to Taylor Swift's Eras Tour for 5SOS fans. Keeping in that theme, if you have been on the Taylor Swift side of the internet, you've seen that fans are trading friendship bracelets at her shows. Before the 5SOS tour started, I had heard some discussion on whether fans would or wouldn't be doing this at these shows. As a crafty person, I made a handful to bring with me. Whether I traded or not, I just wanted to hand them out as a souvenir for fans.
Luckily, there were a lot of fans who also made bracelets to trade. By the end of the night, both of my wrists were filled with handmade mementos. So, if you are considering making bracelets, do it! Everyone I approached was excited to trade and it's a great way to meet other fans and make the show even more special. 
~The End?~
Many fans are speculating this may be the last tour we see 5SOS on for a while. Michael and his wife are about to have a baby. Many of the band members are releasing solo projects. It wouldn't be surprising to see a break after over ten years together. Now, this is all speculation, but if these are the last shows for a while, they are certainly a good place to press pause. The setlist is incredible, the show is an engaging, fun experience. For long term fans, the show is full of nostalgic songs and moments. Newer fans get to enjoy hearing songs from 5SOS5, Youngblood, and maybe even discover some new favorites from past albums. This show has something for everyone and, if you're able, it is an experience you can't miss.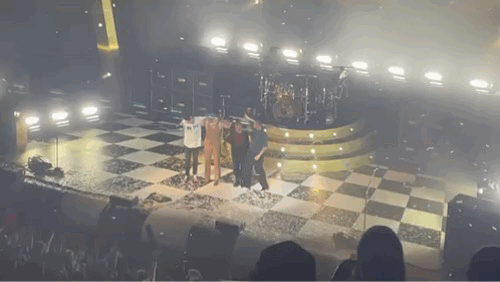 Reviews
Sharing
Tags