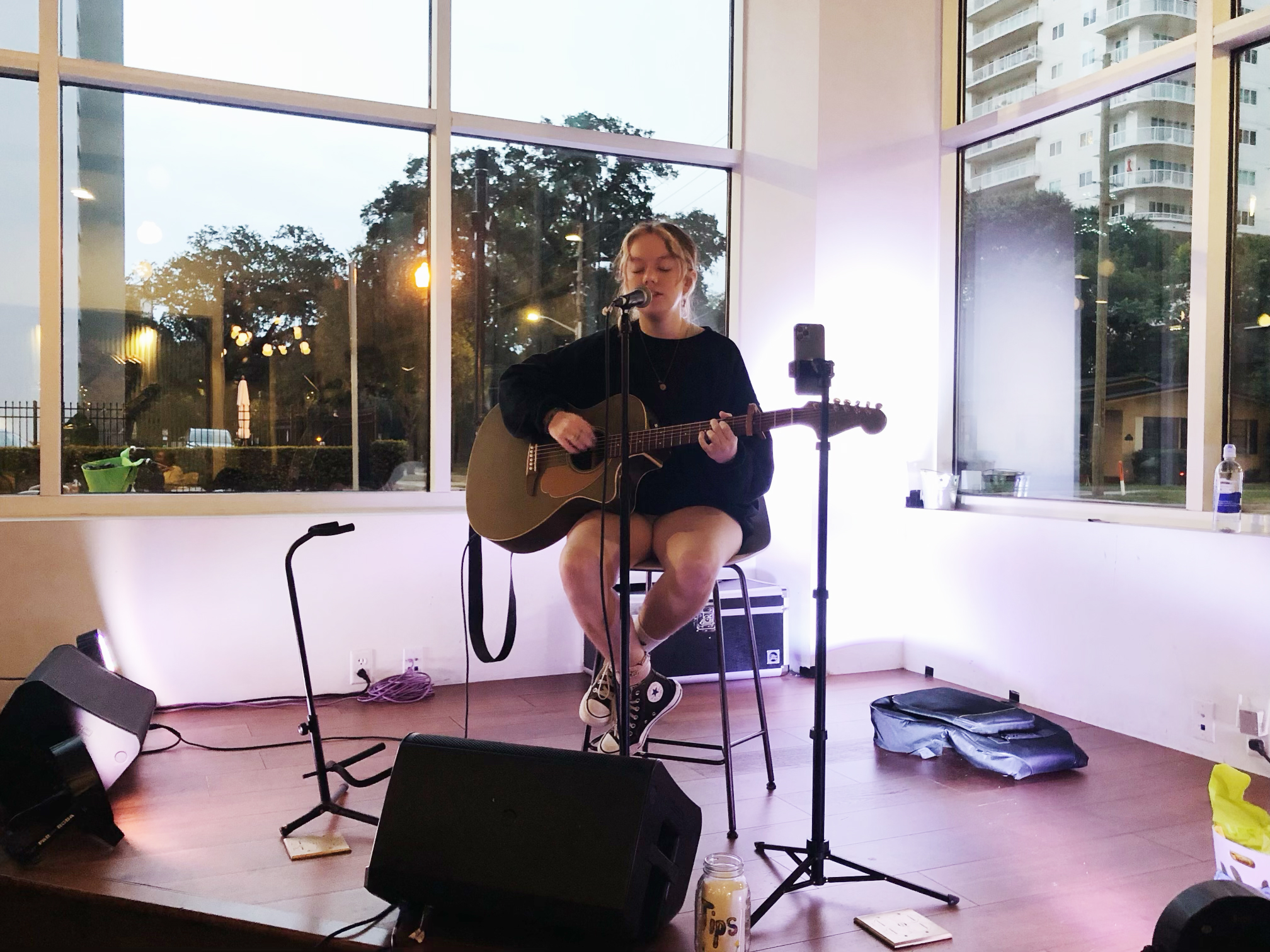 Artist Interview: Sarah Judith Anne
TW: suicidal thoughts, depression, anxiety, OCD
Q: Tell me a bit about yourself!
A: I'm Sarah Judith Anne (They/She) and I'm a singer-songwriter based in Orlando. I often write about mental health and my struggles regarding it, with the hopes of de-stigmatizing mental illness– hopefully helping at least one person feel less alone! It's become a really solid way to work through thoughts and feelings that have been hard to process, since I was diagnosed with Obsessive Compulsive Disorder at a very young age, and don't remember a time without it. My experience with OCD, plus severe Anxiety and Depression, have completely influenced the way that I approach music in general. Being able to create something through these feelings helps me make sense of them, and place them somewhere outside of my brain.

I have one released song that's available anywhere you listen to music, called "Splinter and a Match", and a lot of unreleased music on my Instagram and Tiktok! I also have gigs around the Orlando and Central Florida area. Aside from making music, I'm a political/mental health activist, a student and I spend a lot of my time playing video games with my friends!
Q: How would you describe your music and your sound?
A: I would describe my genre as Indie-Folk– definitely warm, acoustic, and vulnerable. I work with what I have when it comes to equipment, so I rely on raw lyricism versus instrumental power, which I think adds a special strength to the songs, especially when discussing vulnerable topics like mental health. (Think Lizzy McAlpine, Phoebe Bridgers and Dodie!)
Q: What made you want to make music?
A: I've known that this is what I wanted to do since I was born. I had written music about mental health since I was a child, but I started seriously songwriting in middle school, around 2016, when I was dealing with severe Depression and suicidal ideation. I remember finding out about Twenty One Pilots, and truly feeling like I wasn't alone, for one of the first times ever. Their songs addressed mental health in such an honest and relatable way– a way I hadn't heard before– that I found a lifeline through it.

Even though I had written about mental health a little bit as a kid, I believe their music helped get me back into it in a much more serious way because I felt how beneficial it was to write explicitly about personal struggles. Songwriting became, and still is, a safe place to put my most intense emotions. Plus, it's a huge bonus when people are able to relate to it! I was born knowing I was meant to be involved in music, but I knew I wanted to make it once it saved my life.
Q: Does your activism come through in your music? If so, how?
A: Mental health awareness and the activism associated inherently live within my music because that is the foundation for my platform and nearly everything that I write.

Regarding political activism, since I'm so passionate about it, I can't help but bring it up within my songwriting, however, most of my songs aren't political. When I do bring it up, I like to be fairly explicit about it, like my song "mother's here", which I wrote right after Roe v Wade was overturned. Other songs like "fruit flies" imply my political stance and criticize the Floridian government, but that's not the whole meaning of the song. It can be a bit scary to sing about politics in front of bipartisan audiences, but when I feel inclined to sing about it, you best believe I do!
Q: What's your favorite part of creating music?
A: I have two favorite parts: creating lyrics and getting to share a song with a crowd for the first time.
The lyricism is my favorite part of the songwriting process. Getting to a point where I feel like my emotions about the situation have been properly articulated is such a relieving feeling. I write a lot of songs that I don't finish or never release, but they still help me process [specific events and my emotions].

I also LOVE performing live and seeing how people react to new songs. Once I play something for people, that is their song and they get to decide how to interpret it – I think it's amazing how I can write about things that feel so personal to me, and yet rooms full of people are able to relate.
Q: What's your favorite song you've written and why?
A: I'd have to choose "When I Cry", which is the final song of my unreleased EP "When I Cry". I wrote that EP when I was in high school, but the song details an experience I was imagining about college– when I realized that I wasn't going to be able to hide my mental illness from [my future roommates]. I created the song to be sung with a crowd, so whenever I sing it, I get to imagine a room full of people who understand exactly how I feel, in their own way.
Q: Do you have plans to release new music in the future?
A: YES! I'm hoping to get more equipment in mid-November, and from there, I am determined to release more music in 2024. I already have a group of songs I'm looking forward to putting out in the coming months!

The fear of failure has prevented me from releasing much– but at gigs people have come up to me asking where they can listen to more or messaged me afterward saying how my music helped them feel less alone.

Being able to share these songs and have people find comfort, community, and support within them far outweighs any feeling of fear. Releasing "Splinter and a Match" showed me how important it is to share your art and share what's on your mind because you never know who will benefit from hearing it. I'm really excited and grateful to continue doing that. You can definitely expect more releases, posts, and gigs (around and outside of Orlando). I'm super excited for the future!
Keep up with Sarah's Instagram, TikTok, and Spotify for more information and updates!
Instagram: https://www.instagram.com/sarahjudithanne/
TikTok: https://www.tiktok.com/@sarahwithapen?is_from_webapp=1&sender_device=pc
Spotify: https://open.spotify.com/artist/1BzChiLxKzK1vXypaXhDS3?si=Kctkg9BeTzKGm_1_psQ1wQ
Reviews
Sharing
Tags