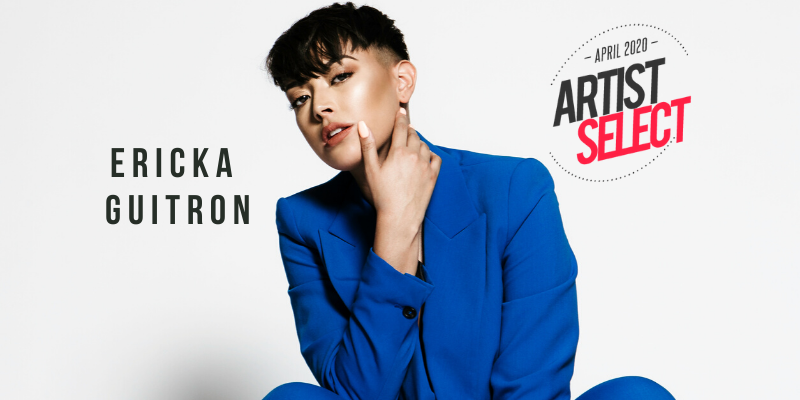 Artist Select (April 2020) presents Ericka Guitron
[vc_row css_animation="" row_type="row" use_row_as_full_screen_section="no" type="full_width" angled_section="no" text_align="left" background_image_as_pattern="without_pattern"][vc_column][vc_column_text]Hailing from Walnut, California, Ericka Guitron is a true performer, vocalist, and storyteller with the heart of gold only creating music that is honest and soulful. She captivates the room with her vocals and has the stunning beauty to match. She's just as genuine as her music and she's only just begun to show the world what she's capable of. Since singing at the age of 8, her music career has lead her from gigging at local restaurants and bars to performing on TV (Showtime at the Apollo), and to touring with Jason Derulo- just to name a few. She gets real with us as she shares how she overcame health challenges and persevered in striving to becoming the best version of herself everyday. Read on to learn more about this gem who will soon take over every radio station.[/vc_column_text][vc_empty_space][vc_single_image image="19881″ img_size="full" alignment="center" qode_css_animation=""][vc_empty_space][vc_column_text]TRAKLIFE: First off, how are you doing during this quarantine? How have you been spending your time? Some people may be undergoing some stress and anxiety during this time, what advice would you offer them on how to cope?
ERICKA GUITRON: I don't do too well with the thought of being confined in any way, so I have my moments where I feel restless and stir crazy. But overall I actually enjoy this time to dive within myself and to do the things that I struggled to make time for. So I'm currently learning Spanish, practicing my instruments, reading books I've always wanted to read, and of course continue to create songs. I want to use this time to better myself so that by the end of this quarantine, I've added more value to myself and what I can do. I encourage people to use this time to get ahead and invest in themselves!
TRAKLIFE: For the people who aren't familiar with your music, can you describe your experience and your relationship with music. Also, when was the moment when you realized you wanted to pursue music full time?
ERICKA GUITRON: I realized I wanted to pursue music full time when I was 8-years-old and right when I graduated high school, I started on it right away and knew that this was gonna be my plan A-Z. I immediately went to college and took music classes, started doing covers, and a few years later, got signed. I signed with RedOne for almost 5 years, and pretty much got shelved. After I left that deal, I independently funded and put out my last EP, A Thousand Skins while also doing little piano covers on YouTube here and there. To pay bills, I started gigging and singing at restaurants, bars, weddings, and anything that requires live entertainment. I even got to tour with PARTYNEXTDOOR and Jason Derulo. Since then, I've been working on music, which I'm excited to release soon!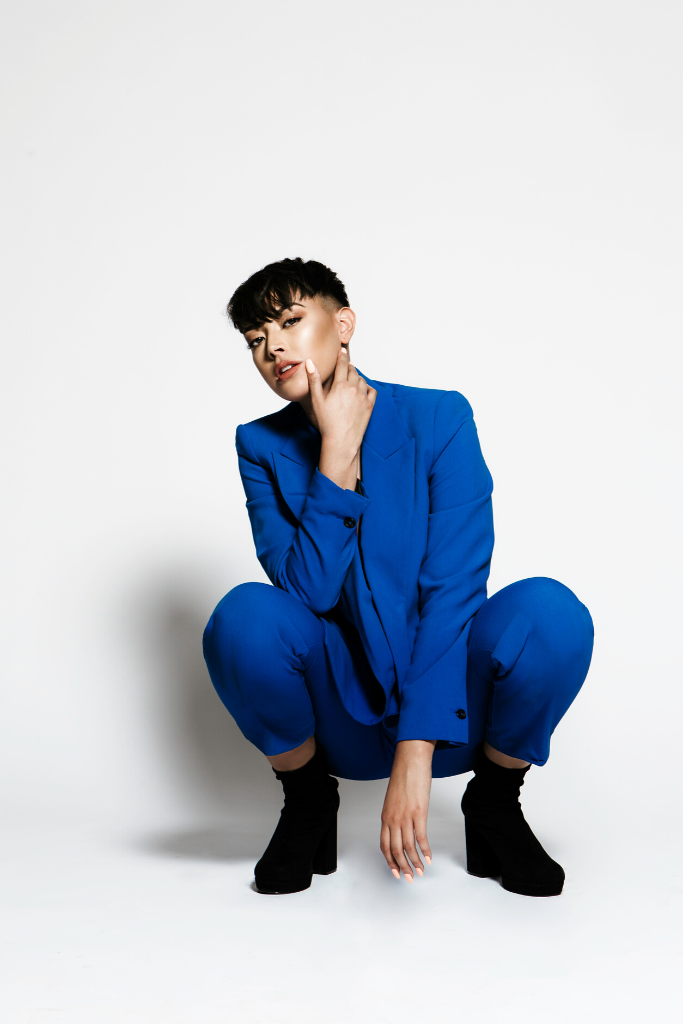 TRAKLIFE: Describe your sound/genre. What do you want people to take away from your music? What makes you different from other songwriters/singers?
ERICKA GUITRON: I'm a soul singer, but a pop topliner – a perfect combination of pop/soul. I love a dirty drum, with some saucy chords, add my soulful vocal style through the avenue of pop toplining, and that's me. 🙂 If I had to use artist references to help paint a picture, I'd say a mixture of Lauryn Hill, Lizzo, Drake, Alicia Keys, J. Dilla and Rihanna is my vibe. As for what sets me apart, there's not a lot of pop-soul female artists that are mainstream, so I feel that would help set me apart. Also, message is everything to me when it comes to music. I want people to get hope, strength, and healing from my message; and I don't hear a lot of that in mainstream pop.
TRAKLIFE: Since the release of your EP, "A Thousand Skins," what have you been up to? How have you grown (professionally as an artist and personally as an individual)?
ERICKA GUITRON: Since the release of that EP, I went on tour with Jason Derulo, and I've continued writing and growing so much as an artist as well as a musician. I took my piano playing more seriously and really invested in growing my musicianship. And of course, been in the studio writing lots of songs and further sculpting my sound as an artist.
https://www.instagram.com/p/BpvU0YFAP7h/
TRAKLIFE: What was it like being on your first international tour with Jason Derulo? What was the most memorable part of the experience? If you could change one thing or nothing at all, what would you change or not change about the trip?
ERICKA GUITRON: It was so surreal, honestly. I went from singing at bars to arenas filled with oceans of people. It allowed me to get a taste of how it is to be on that kind of platform and a higher level of excellence. The most memorable experience on that tour was being in Jason's "Goodbye" music video.. That part honestly felt like it wasn't real. I was so nervous, but had to learn quickly since my part in the video was so last minute. If I could change one thing about the tour, it would have been to increase my confidence level.. There were times I felt overwhelmed by everything.. like I was just thrown in the deep end, abruptly. But at the same time, it was that very experience that made me believe in myself more by the end of that tour –  So I guess I wouldn't change anything, because it was part of my growing process. 🙂 
https://www.instagram.com/p/B-QskYMpzNR/
TRAKLIFE: I remember you mentioned you've had some health issues after the tour. Can you dive deeper into what happened and what your condition was? What is the update on your health now?
ERICKA GUITRON: After tour, due to a stressful break-up, and a series of unfortunate events, I was diagnosed with Grave's Disease, which is an auto immune disorder that specifically attacks the thyroid. And since the thyroid controls metabolism, it caused me to lose sooo much weight at a rapid pace. I started to look skeleton-like, and my heart would beat so fast that it was hard for me to stand up. It affected my performance during my gigs, and my gigs were my main source of income at the time… I almost lost my job because I couldn't keep up…It was a tough time, but I was determined to overcome this, and to overcome it NATURALLY. After 6 months of dedication to changing my health, the symptoms went away and I gained 30 pounds! I feel absolutely wonderful now. 🙂
TRAKLIFE: "A Thousand Skins" was your introduction to the world as an emerging artist, what can we expect from you in your new music?
ERICKA GUITRON: Because of the difficult situations I was emotionally experiencing during the making of my A Thousand Skins EP, the project manifested as a mellow, and emotively somber body of work. This new batch of music, however, is more uptempo and refreshing. I'm in a much happier and upbeat vibration in my life and I think it reflects in the music!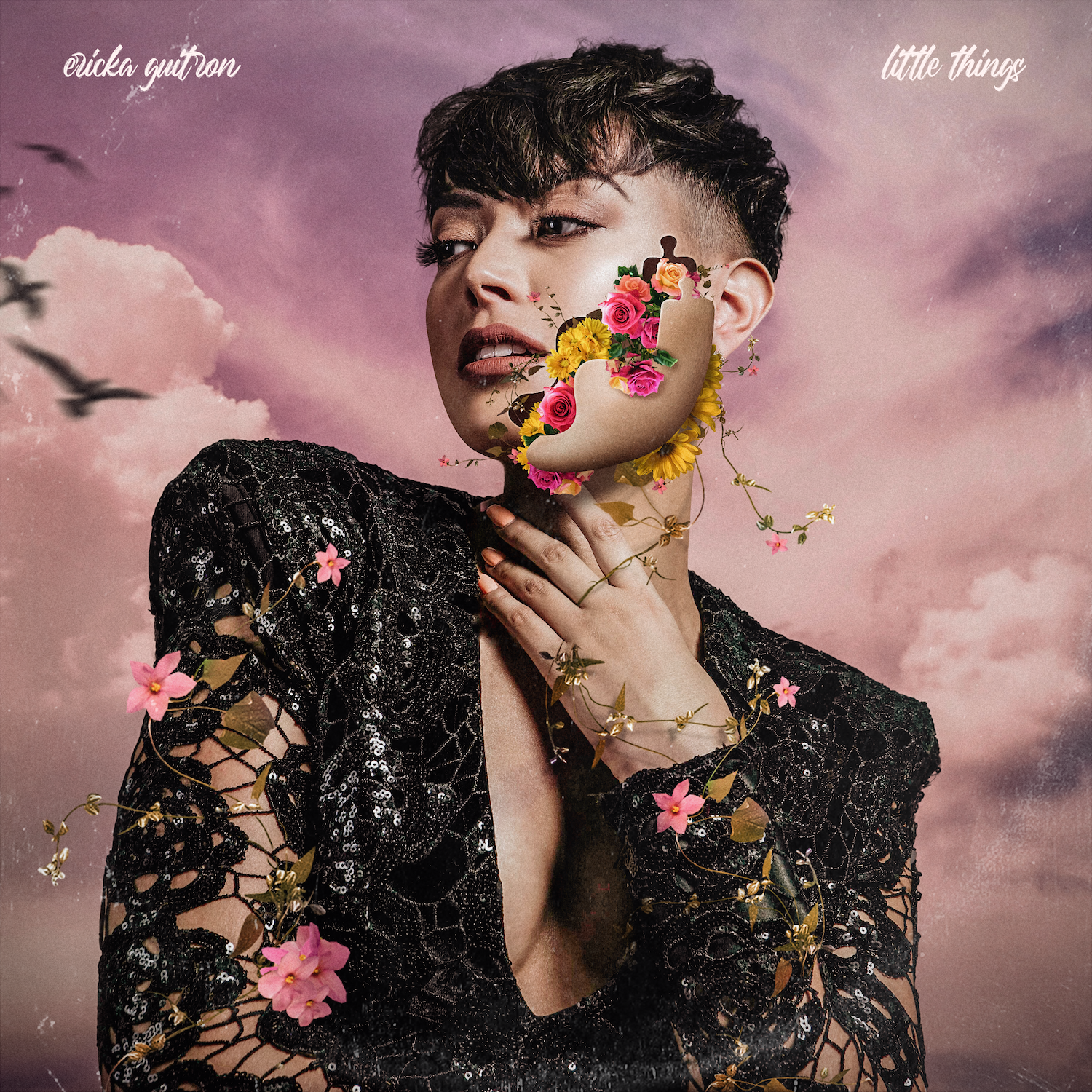 TRAKLIFE: What was the inspiration for "Little Things?"
ERICKA GUITRON: Little Things is about a time in my life where I was single for almost 7 years. Although it was by choice, I started to feel a little lonely and a deep desire for intimacy with another soul. But I kept reminding myself why I was remaining single – to better myself and work out all the kinks within myself. I was striving to BE the one, rather than looking for the one. The song is a very feel good, uptempo vibe, and I did that to help stress the fact that being alone isn't a bad thing. I liken myself to being a garden, and I'm "pulling out the weeds" that don't serve a purpose or benefit my life – whether it be bad habits, past traumas, or wrong believe systems. 
TRAKLIFE: When will you be dropping your next project? What is next for Ericka Guitron?
ERICKA GUITRON: This year, I plan on doing things a little differently. I don't think I'm gonna drop a "project" or EP. Rather, I plan on releasing at least one single a month (maybe even 2 for some of em) for the rest of the year. I definitely will have music videos this time as well. I'm so unbelievably excited to share what I've been working on![/vc_column_text][vc_empty_space][/vc_column][/vc_row][vc_row css_animation="" row_type="row" use_row_as_full_screen_section="no" type="full_width" angled_section="no" text_align="left" background_image_as_pattern="without_pattern"][vc_column width="1/2″][vc_column_text]
[/vc_column_text][/vc_column][vc_column width="1/2″][vc_column_text]Stay Connected
Listen: Ericka Guitron on Spotify
Follow: Ericka Guitron on Instagram[/vc_column_text][/vc_column][/vc_row][vc_row css_animation="" row_type="row" use_row_as_full_screen_section="no" type="full_width" angled_section="no" text_align="left" background_image_as_pattern="without_pattern"][vc_column][/vc_column][/vc_row]
Reviews
Sharing
Tags