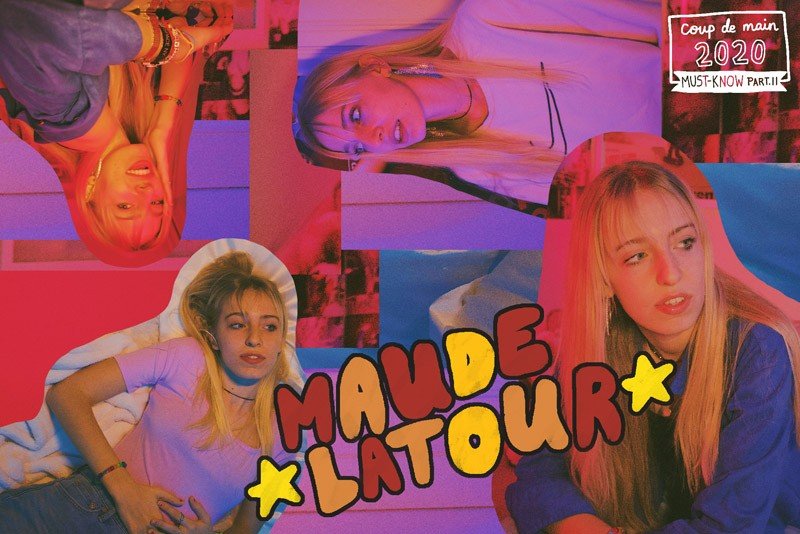 Maude Latour's "Block Your Number" – Single Review
[vc_row css_animation="" row_type="row" use_row_as_full_screen_section="no" type="full_width" angled_section="no" text_align="left" background_image_as_pattern="without_pattern"][vc_column][vc_column_text]Maude Latour is one of my favorite new artists. I've been waiting not-so-patiently for her next single (check out my review of "Furniture" here) and now that it's here, it's everything I wanted. 
"Block Your Number" sounds like something that could have been on Lorde's Melodrama, which is some of the highest praise I can give. Latour puts her own spin on things, though, taking the dreamy electro-pop of the verses and quickly twisting it into grungy guitars and early-2000s pop-rock production. [/vc_column_text][vc_empty_space][vc_column_text]https://www.instagram.com/p/CFhrLiAFHEd/[/vc_column_text][vc_empty_space][vc_column_text]Latour is a master of packing verses with deeply personal details, while still remaining relatable.
"I remember when we first fell in love // Symphonies at the bus stop on a Tuesday // I was wearing blue Nike high tops // You were annotating Greek tragedies," she sings over woozy backing vocals and strings. Not exactly something lots of people can relate to, but such is the magic of Maude Latour. She zeroes in on minor details in verses, then zooms out on the chorus: "I can't believe it's over // I watch our lives untangle // I guess that this is the part when // I block your number." 
Latour's music also signifies the shift in today's pop music. Sure, you still have your Katy Perrys and your Lady Gagas, but smaller acts are branching out of Top 40 production styles. Artists like Charli XCX and Caroline Polachek are experimenting and creating completely new sounds and subgenres. Latour's music fits right into this new scene.
"I am so excited for this song to come out," Maude said in a statement. "It's an explosion of a moment, of too many details and too many secrets. This song is so many of my influences combined exactly— it is Regina Spektor, 100 gecs, the Strokes, Lana, Lorde, Taylor all at once….It is all of my thoughts and it sucks you into the universe in my head that I'm gradually opening up for the world to see. I hope it gives you the freedom you're craving, I pray that you listen to it many times in a row and hold on to every syllable. There is so much packed into this song, it's all straight from my life, my heart, my existence. I have nothing other than this."
Check out "Block Your Number" here![/vc_column_text][/vc_column][/vc_row][vc_row css_animation="" row_type="row" use_row_as_full_screen_section="no" type="full_width" angled_section="no" text_align="left" background_image_as_pattern="without_pattern"][vc_column][vc_empty_space][/vc_column][/vc_row][vc_row css_animation="" row_type="row" use_row_as_full_screen_section="no" type="full_width" angled_section="no" text_align="left" background_image_as_pattern="without_pattern"][vc_column][vc_video link="https://www.youtube.com/watch?v=NmnfGDC8XR8″][/vc_column][/vc_row][vc_row css_animation="" row_type="row" use_row_as_full_screen_section="no" type="full_width" angled_section="no" text_align="left" background_image_as_pattern="without_pattern"][vc_column][vc_empty_space][/vc_column][/vc_row]
Reviews
Sharing
Tags